Hannah | psycho-social therapist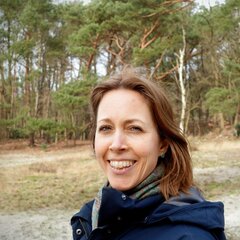 ✓ I also offer online therapy
Great, you are taking the first step.
Leave a message and I will contact you as soon as possible.




Therapist Hilversum
Sometimes you can lose the connection with yourself. You run into the same problems over and over again in your work, your health, your relationship or your family. You want to change, but you don't know how to do it differently. In my practice, I'll teach you to look at your patterns and obstacles with understanding and empathy and determine the underlying need that drives them. By learning how to fulfill this need yourself, you can choose to act differently and you'll be able to reconnect with yourself again and others.
What will it bring you?
My therapy helps you to connect with yourself again, with others and the world around you. You learn to listen better to your own body, your feelings and needs, and you get the tools to take care of them.



How?
Instead of resisting your own undesirable behavior, I'll teach you to look at your obstacles and patterns with empathy and understanding. You will gain insight into the underlying needs and you learn how you can fulfill these needs. This allows you to look at yourself, the other and the world around you with an open mind.
For whom?
In my practice in Hilversum I guide people with various complaints like stress, burnout, emotional complaints, psychosomatic complaints, insecurity, perfectionism, fear of failure, fears, ptsd, trauma processing and grief.
Who I am
I'm Hannah. With great pleasure I guide people to reconnect with themselves, to find answers to the questions they struggle with in daily life. In 2011, I started counseling families through my work as a children's healthcare nurse and since 2016 I provide individual and couples therapy.

Clients experience my treatments as safe, warm and accepting. They feel heard and seen, creating room to talk openly about the things they struggle with. They describe my approach as supportive, clear and effective.
If you would like to know more or make an appointment, please contact me.
Hannah
Online therapy
I offer online therapy through Google Meet.
Statement concerning the coronavirus pandemic
In practice there is enough space to guarantee 1.5 distance.

I stick to the guidelines of the RIVM.
Qualifications and registrations
Educations:
Bacherlor of -Nursing-
Hanze Hogeschool Groningen
Essential therapy-
Centrum voor essentiele therapie Hoorn
Courses:
Working with groups, family constellations and systemic working -
Centrum voor essentiele therapie Hoorn
Quantum touch - Elly Pomee - Leiderdorp
Motivational Interviewing- Utrecht
Trauma sensitive mindfulness-
Academie voor open bewustzijn Tilburg
Training Inner Family Card Game, Innerlijke familie Baarn
Specialisations
During therapy I use the following methods;
Polyvagal theory
Trauma processing
Working from the body
Grieving and loss processing
Working with the inner child and the adolescent
Nonviolent Communication
Mindfulness
EFT
The five love languages
Working with ego and sub-part personalities

The number of sessions varies greatly and depends on the complaints the client comes up with. Usually you need at least 6 sessions to gain more administrative power. In therapy where you look more at the origin of the complaints, 10 to 15 sessions are needed.
Most common issues I support people with:
Common complaints that I encounter in practice are:
Gloom/ Depression
Burnout
Fears
High sensitivity
Tension or loss of connection in the relationship
Therapies offered
Areas of counselling I can help with
Fees
Intake € 60.00 (75 -90 min)

Individual sessions € 80.00 per session (60 min)
Couples therapy € 100.00 per session (75min)
Availability (Opening hours)
| | |
| --- | --- |
| Monday | 8.30-17.30 |
| Tuesday | 8.30-13.30 |
| Wednesday | 8.30-17.30 |
| Thursday | 8.30-13.30 |
| Friday | 8.30-17.30 |
| Saturday | - |
| Sunday | - |
Photos
Location