Marcella | Psychologist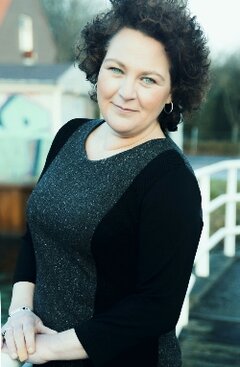 ✓ I also offer online therapy
Great, you are taking the first step.
Leave a message and I will contact you as soon as possible.




Psychologist Tilburg
Hi everyone, glad to get the chance to introduce myself. I'm Marcella, married to Debby and living with her two kids Finn en Daantje and our frenchie Happy. We're blessed with the fact that we can combine work with taking care of eachother.

Our passion: really seeing people, making contact and listening onconditionally. We believe that we can help people get there balance back as to being aware of the energy they get from thinking, feeling, doing.

If you are stuck in some way, alone or in your relationship or workplace, we will be glad to figure out together why there's this lack of energie taking place inside of you. Are there patterns that you are less aware of and that are keeping you from finding the space to really be you. What is keeping you back or angry or to tired te even see a way that would fit your needs.

Let's find out together what you need to get you energy in balance again, to take up the space you need to - with selfcompassion and compassion for others - really connect with your needs and your connection with others.

Your whole being matters: that may sound a bit strange. But when you take some time to really feel where tension or pressure or emotiones are stuck in some way in your body (neck and backpains, feeling nauseous, tired legs or any other sensation that will pop up when you concentrate on yourself for a while) we can go discover the cause.

Are you presenting the true you or are you adjusting, not really expressing what is holding you back or sharing what you really want and need? Those questions can be put in to words when we search for your patterns and the way they where build up during your whole life.

We can than question why you might be holding on to old believes and reactions that where logical and needed at som point in your life, but no longer express the way you changed. You ar able to change whatever is keeping you from enjoying life, finding out what really will give you purpose and fulfiment.

Let's go on a journey together!!

Marcella


Online therapy
Online is a great option if live contact for some reason can't take place. To be honest, we prefer live contact where possible because we feel that that way of interacting gives a more deep connection because we are fully present in every way. But ofcourse when needed, we are available online and will make way for reaching out to you with all our energy.

The approach is the same as when we would meet, because for instance meditating to discover where you block your energy can be shared by guiding you through this proces step by step. We can also choose a combination of online sessions and e-coaching by sharing mails about your needs and our feedback on what we read and want to focus on. This is often experienced as pleasant because you can read the suggestions back and be more aware of the next step to be taken.

Online (preferably zoom but other options can be realized) we will discover if you are mainly living your life overthinking everything, letting your feelings blur your vision because the world can be overwhelming or being active all the time because doing is a more familiar option than feeling or stepping back to realize why you're doing what you're doing. What gave rise to your wish to get some help? Realize that every step you take to get more self insight, to wanting to be more energetic, vital, happy and reach your full potential means showing the guts to be the real you!
Statement concerning the coronavirus pandemic
We want to take care of you and of ourselves. If a virus is keeping us from seeing eachtother live, we will ofcourse go on line. When possible and following all the rules that will keep everyone as save as we can, we will be equipped with mouthmasks, handgels, and the proper distance needed. Let's hope we can soon interact as free and connected as we want to be in order to be there for eachother in the way that helps you overcome anything you encounter that's keeping you from really living your life.
Qualifications and registrations
I'm a registered psychologist and psychosocial / alternative therapist and my firm Kr8 is not complete without the massaga salon run by my wife Debby who has had schooling in different areas to be an allround masseuse. Finding an releaving knots in nerves, helping you feel the areas that need your attention, being able to use her intuition to find and feel your needs that are hidding away in you body, she will adjust to what feels good for you. Respect and honesty are the key elements of our approach.

Qualifications are always found on every billing but to be more complete, the main qualifactions are:
NIP registration: 135973, LVPW / RBCZ registration: 401112 and codes for the practice: 94-064731 and for practicing: 94-008015 and 90-108788.



Specialisations
I specailise in listening onconditionally. I'm passionate about my work and way of connecting by really seeing you. I always hope to create an environment in which you feel free to share and be at ease no matter what will come by. Depression, anxiety, burn out, feeling tired and wanting to search for the source of what is holding you back or making you act in ways that are not working for you, is the centre of our attention.
Phyisical / sexological or any other body related issues are a speciality because i've been there and i sometimes still am because for instance being unwanted childlessness is something that i take with me in my whole being. More accepted, less hurtfull but there and treated with respect.
Traumatic experiences are encountered by really getting insight in what happened and when, how we can give room to the feelings or believes that grew and how we can relive them knowing that in the present we are able to show a different reaction. Together we can, within your boundery's, make room for the person you want to be by seeing, feeling and reconstructing you believes about yourself. We want to find your personal strenght and your ability to create your own path in life. You're worth it.
Most common issues I support people with:
- Depression, anxiety and burn out: what made you small, depressed and nervous and drained you along the way? Can we combine sessions with meditation, creative work like crafting, scrapping, dancing, singing or simply breathe a bit deeper and more consieus so we can get to the core of who you really are and want to be?
- Lonelyness, alienation, relationship therapie: what is your definition of really being in contact with others? what is holding you back to really share desires and goals as to have a real connection and feeling more alive because you're able to reach out and enjoy interaction, affection and self care
- Body awareness: what is your self image build up from and are you able to long for more acceptance and freedom when you see the whole you? I've been there. A gastric bypass gave me room to feel more alive and give energy to my womanhood, a heart attack was the warning to re adjust my balance and i'm glad to say all gave me the boost to be me, take up my space, share en love whatever i'm doing. Let's really be open, no shame, your time with me or combined with a massage, just realise: it's your time.
- Trauma related issues: it takes personal strength to be able to know that what you've been through and that you are aware of the worth of sharing and making way to be able to carry your burden when someone is really present during your proces. Respect for the fact that you choose the present as a way to become more free of old pain and believes that where pressured on you. With caution, we will search for the thoughts, feelings and images that are limiting you.
Explaining your current reaction to old pain, your patterns that might have become disfunctional and your strenght in the here and now to encounter it all again, is hard but essential. With the wisdom you've experienced during your life after the trauma, you can discover new ways of coping and reacting in a way that fits you right now. With my wish to realize an environment in which you will feel safe, seen and at ease, we be connected during your proces in a way that gives you the comfort and space to develop the you that makes you proud and say out loud: I'm worth it.
Areas of counselling I can help with
Fees
A session with the psychologist: 90 euro's p/u often partly covered by your insurance
Half hour massage all specialities: 35 euro's p/u (60 euro's for an hour)
Massage workshops: 125 euro for 2 / 2,5 hours (couples who want to learn to touch eachother again in a respecfull, connecting way etc)
Most people combine therapie with massage when i suggest it as helpfull to get rid of tension, pain and anxiety in all levels of your being. Price is varaible and can also be partly covered by insurance.
Don't forget that in some cases your employer can help finance your wellbeing or you can use coaching as a substantional learning proces to be written of from your taxes.
Grouptherapie: depens on content, number of gatherings, materials etc
Will be made available for a broad range of people because we also believe in being available for people who need financial aid to take part. We offer - when needed - help to for example reach out to your City hall to get a budget for guidance. And we believe in 'passing it forward'. Connecting, being there and sharing our believe that money is needed but nog always the main reason to help, will be a guideline to.
Availability (Opening hours)
| | |
| --- | --- |
| Monday | 08.00 - 21.30 |
| Tuesday | 08.00 - 18.00 |
| Wednesday | 08.00 - 21.30 |
| Thursday | 08.00 - 18.00 |
| Friday | 08.00 - 18.00 |
| Saturday | 08.00 - 13.00 |
| Sunday | closed |
Photos
Location