Loes | Integrative Psychotherapy, Hypnotherapy and Counselling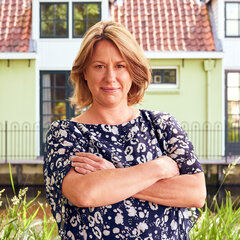 ✓ I also offer online therapy
Great, you are taking the first step.
Leave a message and I will contact you as soon as possible.




Psychotherapy Laren
We all run into problems every day. Some are easier to resolve or deal with than others, but no matter where an experience is on the continuum from mildly problematic to traumatic, there is a way back to regulation if we understand how the nervous system works.

As we learn to become friends with our nervous system and anchor ourselves in a safe state of the autonomic nervous system, the inevitable challenges in our daily lives are no longer nearly as terrifying. We discover we can recover even from traumatic events.

In my practice for Integrative Psychotherapy, Hypnotherapy & Counselling, my main focus is on working with clients with traumatic experiences (schocktrauma, developmental trauma, social/relational trauma), burn-out, grief, misofonie & tinnitus.

In my practice you discover how you can feel safe and connected by becoming friends with your nervous system. Your autonomic nervous system is not only responsible for regulating vital bodily functions, but also shapes your daily experiences. It affects your life, your emotions, your relationships. It determines the way you find your way in the world.

Although most people come with a history and their personal story of major life events, our work together is primarily about health and growth. When you are 'anchored' in regulation, your nervous system is in balance and you experience the sense of well-being that comes with healthy homeostasis of your nervous system. You feel safe in the world around you and can effectively deal with everyday challenges.

If you want to know more or make an appointment, feel free to contact me.

Loes


Online therapy
I offer full secure online therapy through a fully licenced organisation servicing therapeutic practises: MijnDiAd. You receive an appointment and a secure link in your e-mail.

Fees and consult-time for online appointments are the same as face-to-face therapy in my practice in Laren.
Statement concerning the coronavirus pandemic
I closely follow the guidelines of the government, the RIVM and the Association of Integral Therapists. The practice is open for the time being, provided that everyone adheres to the Corona measures currently in force.
We take all precautions very seriously: practice and sanitary facilities are cleaned vigurously.
If you have a cold, cough, sneeze, or have been in contact with someone with Corona, I urge you not to come to the practice. The terms in the General Terms and Conditions for canceling appointments do not apply for Corona related situations.
Qualifications and registrations
Training & registrations
2014-2017: Dutch Academy of Psychotherapy in Amsterdam: Integrative Hypnotherapy
2010-2012: Dutch Academy of Psychotherapy in Amsterdam: Counselor
1991-1989: Maastricht University: Health Sciences
1996: University of Bielefeld (Germany): Gesundheitswissenschaften
1985-1991: Erasmus Gymnasium Rotterdam: Gymnasium ß
1979-1981: Houston, U.S.A: Elementary School (Native English speaker)
Registrations
RBCZ - Register Professional Practitioners Complementary Care
SCAG - Complementary and Alternative Healthcare Foundation
VIT - Association of Integral Therapists
Specialisations
Specializations
Practice for Integrative Psychotherapy, Hypnotherapy & Counseling. Specialized in counseling people who are going through or have gone through major life events. Trauma and grief counseling. Social and relational trauma. Burnout. With a strong professional opinion on effective treatment of misofonia and tinnitus. Sleeplessness, restless legs.
In first instance I offer individual therapeutic guidance. Through traumasensitive mindfulness, we explore your personal story and what happens in your "inner world" of feelings, thoughts, behavior, emotions and sensations within your body. In 80% of the cases guidance concerns medium-term therapy: 7-12 sessions. Only in exceptional and extremely complex cases do routes take longer.
Most common issues I support people with:
The most common issues in my practice:


Trauma
Grief
Burnout
Hyper alert
Misophonia/tinnitus
Insomnia
Restless Legs
Areas of counselling I can help with
Fees
Fee


The fee for a therapeutic consultation is €90 for appointments between 9am-5pm (per consultation, no hourly rate).
On a limited scale, it is also possible to schedule appointments in the early morning (7-9 am) or evenings (5-9 pm) for a fee of € 120.
Duration of a counseling session is approximately 90 minutes, unless otherwise agreed. Overtime is at my expense and responsibility.
Therapeutic counseling is exempt from VAT. Therapeutic guidance falls under complementary care. You can submit the bill to your health insurer if you have additional insurance. Check the insurance conditions of your health insurer, as the conditions may differ per insurance. A referral letter from the GP is not necessary.
Availability (Opening hours)
| | |
| --- | --- |
| Monday | 7-21 hours |
| Tuesday | 7-21 hours |
| Wednesday | 7-17 hours |
| Thursday | 9-17 hours |
| Friday | 9-17 hours |
| Saturday | x |
| Sunday | x |
Location