Indre | Expat Therapist - Psychologist - Integrative therapy - Couples therapy - CBT-ACT-SFT- schema therapy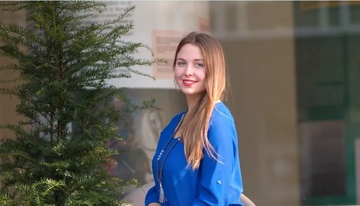 Psychologist Veldhoven - Eindhoven




Abdijtuinen 305




5504EW

Veldhoven

Send a message
✓ I also offer online therapy
Great, you are taking the first step.
Leave a message and I will contact you as soon as possible.




Psychologist Veldhoven - Eindhoven
Hello, I'm Indre, an English and Lithuanian speaking psychologist from Lithuania. I am empathetic, commited and dedicated psychologist who is very passionate for my job. Having experienced life as an expat myself, I can deeply empathize with the cultural challenges and feelings of homesickness that you may be going through. Drawing from my own personal and professional experiences, I bring a culturally sensitive approach to therapy.

My goal is to provide the best possible empathic, warm and collaborative support that is tailored to each individual's unique needs by combining elements from different approaches. I've found clients benefit greatly from this integrative approach, as they are provided with a range of strategies to effectively address their challenges. I use elements from CBT, solution-focused therapy, schema therapy, humanistic therapy, acceptance and commitment therapy and systems therapy.

Whatever the reason may be, reaching out for help can feel scary and difficult. Recognizing that you need help is already a significant step towards improving your mental health and overall well-being. Therefore, I am glad that you have taken the courageous step to seek support!


I also offer couples therapy. My goal is to provide the best possible empathetic, warm and collaborative support tailored to each couples unique needs.
TO ASK FOR HELP FROM A PSYCHOLOGIST IS:

not something to be ashamed of (Problems and difficulties are natural and common parts of the human experience, more often than you think. They do not indicate a personal flaw. It is perfectly normal to experience mental health problems at some point in your life. to get.)
a strength (It is an act of strength that demonstrates your self-awareness, your ability to take control of your life and your proactive approach to solving problems. It signifies resilience and an understanding that overcoming obstacles is an integral part of the journey to a fulfilling life.)
a step towards growth ("The greatest glory in life is not in never falling, but in getting up every time we fall." - N. Mandela. Negative experiences serve as signals, motivating us to look for ways to improve ourselves and personal growth and learning)
1. I Focus on creating Safe Space
Creating a safe space for my clients is my utmost priority, where they can feel heard, respected, and validated. I firmly believe that fostering a collaborative, trustworthy, honest, reliable, transparent, empathetic, warm, and authentic atmosphere is essential for clients to feel understood and to achieve positive outcomes. I am fully committed to giving my undivided attention to your concerns, striving to understand your perspective without judgment or interruption, and seeing the world through both of your eyes.

2. I have in depth knowledge of Psychology
Through years of dedicated study, spanning almost seven years, I immersed myself in the field of psychology, pursuing coursework in clinical psychology and its various subfields. This rigorous training has prepared me to provide comprehensive assistance to individuals facing a multitude of challenges.
Despite having completed my extensive studies, I am acutely aware that competence in psychology is an ongoing and fascinating lifelong journey. I am consistently captivated by the prospect of continually sharpening my skills and broadening my knowledge, driven by the desire to offer optimal assistance to individuals seeking help.

3. Evidence Based Interventions
I place a strong emphasis on evidence-based therapy, I prioritize staying current with the latest research findings and integrating well-tested approaches and techniques. My unwavering dedication is to provide therapy of exceptional quality, free from any placebo effects.

4. Supporter of innovative out-of-the Box Interventions
For example, I employ exposure therapy, accompanying clients to different locations to help them overcome their fears; utilize role-playing techniques, where we assume different roles to simulate real-life scenarios and develop understanding or find solutions; or etc.

Online therapy
I strive to maximize the benefits of online therapy. Research indicates that online therapy can be equally effective compared to traditional in-person therapy. In addition to offering scheduling flexibility, many individuals also experience greater comfort, find it easier to open up, and feel more relaxed when discussing sensitive or personal matters within the privacy of their own home.
To enhance the therapy experience, we incorporate interactive tools and utilize various online resources, aiming to create sessions that feel as lively and real!
Statement concerning the coronavirus pandemic
I adhere to the newest government guidance with regards to corona measures
Qualifications and registrations
MSc Clinical Psychology, Child and Adolescents Psychology, 119ECT, Cum Laude ,
LEIDEN & ERASMUS ROTTERDAM UNIVERSITY, the Netherlands
Therapeutic courses : CBT interventions, Solution Focused Therapy, Therapeutic Skills, Clinical Interviewing & Assessment, Couples Therapy & Sexuality.
Abnormal Psychology : Personality Disorders, Eating Disorders, Complex mental health are, Trauma and Mental Health, Innovations & e-Health Interventions, Experimental Clinical Psychology, Health Psychology in Practice.
Child & Adolescent therapy and psychopathology : Solution Focused Therapy, Cognitive Behaviour
Therapy with Young People, Advanced Child & Adolescent Psychiatry.


Honours individual track Clinical Psychology , LEIDEN UNIVERSITY, the Netherlands
Courses include : Children Rights, Juvenile Delinquency : repression & prevention, Personal flourishing & happiness, Psychotherapy : Theory, Research & Practice, Cross-Cultural perspective to health & illness.
BSc Psychology
, 251ECT , LEIDEN UNIVERSITY, the Netherlands
Adult Psychopathology : Clinical Psychology, Sexology, Pharmacological and Biological Approaches to Clinical and Health Psychology, Health and Medical Psychology, Stress, Health and Disease.
Child and Adolescent : Clinical Child and Adolescent Psychology, Psychological and Neurobiological Consequences of Child Abuse, School Psychology.


I have LOGO registration, I also followed a number of other trainings:
Systemic Family Counseling | Mindfulness Training | LGBT Counseling, Support, Inclusion, and Understanding Discrimination | Crisis Intervention Training | Intensive Emotional Training Course (Active Listening) | Bullying Prevention | Loss and Bereavement | Various Training Courses on Emotions and Emotional Intelligence Supporting Children from At-Risk Families | Helping Clients with Aggression and Emotion Regulation Difficulties | Existential and Humanistic Therapy Workshop | Psycho-dynamic Therapy Workshop
Specialisations
INDIVIDUAL Therapy:
(expected number of session 1-30/ depending on individual)


Individualized treatment:
I believe that there is no one fit all solution. We will cater the therapy based on your individual needs and situation- your unique environment, social, cultural, medical, psychological background and preferences! We will also adapt the treatment plan based on your changing needs and circumstances. Collaboratively, I will seek to use my knowledge as psychologist in helping you to find approach which strives your interest, and motivation to apply even outside therapy room!

For example, some people might benefit the most by directly focusing on goals such as personal growth, symptom reduction, and developing coping strategies. On the other hand, some individuals benefit from staying longer in the discovery phase.Alternatively, we could deviate from this model entirely and derive value from embracing a goal-free approach, focusing on reflecting upon and addressing the weekly events and experiences.
Examples of treatment steps:

Treatment steps might depend on your situation and therapeutic approach we will decide yo use.
For example:
learning ways to recognize that you are having negative thoughts, so that you can deal with them better; mastering alternative strategies of thinking,

discussing your past relationship and stresses and learn how to work through those.

gaining new skills, and forming adaptive habits,

finding ways to approach, solve problem,

exploring ways how to process emotions,

improving your relationship,

learning to distinguish between situation you can change and those you can't and how to focus on improving the factors within your control.

capitalizing your inner resources and strengths so that you can be better able to navigate with future challenges

improving your resilience and cultivate a sense of well-being and fulfillment that extends beyond the challenges and difficulties that you may encounter in your life.

and many more!
Most common issues I support people with:
Depression
We will use variety of CBT and ACT tools to help you overcome depression. For example, you will learn to become aware of distorted thinking patterns and learn techniques to reframe negative thoughts into more realistic and positive ones. We will also incorporate behavioral strategies to promote engagement in pleasurable activities and improve overall functioning.

Depending on your situation we might try to gain insight into their emotions, thoughts, and past experiences to better understand the underlying causes of their depression. Through this process, you can develop coping strategies and work towards resolving unresolved issues.


Anxiety
We will try to get in depth and find out what is behind the anxiety, what exactly are you fearing of? We will use variety of CBT techniques to help you deal with anxiety. For example, we will be gradually exposed to anxiety-provoking situations or triggers in a controlled and systematic manner. Through repeated exposures, you learn that your anxiety lessens over time, leading to a reduction in fear and avoidance behaviors.

I may teach you various relaxation techniques, such as deep breathing exercises, progressive muscle relaxation, or guided imagery. These techniques can help you manage the physical symptoms of anxiety, such as rapid heartbeat or shortness of breath, by promoting a state of relaxation and reducing overall tension. We might also learn mindfullness. It can help you become aware of your anxious thoughts and sensations while developing a non-reactive and accepting attitude.


Trauma
We will utilize evidence-based approaches to assist you in coping with your trauma. Our primary focus will be on creating a safe space for you to express yourself openly. Trauma can lead to negative beliefs about oneself, others, and the world. I will assist you in identifying and challenging these distorted beliefs and replacing them with more realistic and positive ones.

We will work together to process your trauma in a way that minimizes its ongoing impact on you. Trauma can lead to intrusive thoughts, flashbacks, and overwhelming emotions.

I will teach grounding techniques that help you stay connected to the present moment and regain a sense of safety. These techniques can include mindfulness exercises, sensory grounding exercises (such as focusing on the five senses), or physical activities that promote relaxation and grounding.

Additionally, we will explore strategies to help you develop resilience and grow stronger from your experiences. We will also work on self-compassion and self-care as they are essential components of healing from trauma. I show how to cultivate understanding, kindness, self-care and acceptance towards oneself.


Relationship problems

we will explore dysfunctional communication patterns and learn how to communicate in a more adaptive way to reduce miscomunication and increase closeness. We might also use solution focused therapy which is a goal-oriented and future-focused approach that helps work towards solutions rather than dwelling on problems. I will also provide psychoeducation.

This involves educating you about healthy relationship dynamics, effective communication, conflict resolution skills, and strategies for building and maintaining a fulfilling relationship.


Emotion regulation problems
you will learn to better recognize and be aware of your emotions. You will learn variety of tools to deal with your emotions, we will learn various techniques to regulate distress, reframe negative thoughts which leads to maladaptive beliefs.

We might also work on gaining skills in identifying and labeling emotions, practicing relaxation and stress management techniques, engaging in activities that promote positive emotions, and developing problem-solving skills to address triggers and challenges.
Areas of counselling I can help with
Fees
Fees Workdays between 8:00 and 18:00
Fees after 18:00 and Weekends
there are extra cost for evening and weekend sessions
I do not currently have contracts with insurance providers and my sessions are not reimbursed by Dutch basic insurance. If you have coverage through a different insurance provider, I recommend that you contact them directly to explore your options for coverage.
Availability (Opening hours)
| | |
| --- | --- |
| Monday | 8:00-21:00 |
| Tuesday | 8:00-21:00 |
| Wednesday | 8:00-21:00 |
| Thursday | 8:00-21:00 |
| Friday | 8:00-21:00 |
| Saturday | 10:00-13:00 |
| Sunday | 10:00-13:00 |
Photos
Location